Category Archives:
Authors
Posted by Molly | April 12, 2015 | No Comments
We're soon to touch down in one of our absolute favorite literary states for the Texas Library Association Conference in Austin! If there's anything better than talking books, hanging out with authors and librarians, and enjoying sunshine and Shiners, then we don't want to know about it.
If you'll be in the Lone Star State, too, please swing by our booth, #1341, for galleys, giveaways, and face time with the HarperCollins Children's Books School & Library team. We can't wait to chat and put books in your hands.
But if you're reading this thinking, "sure, you guys are nice, but we're here to meet the AUTHORS, silly!" check out our top-notch signing schedule, here:
WEDNESDAY, APRIL 15TH:
11:00am–12:00pm, Joy Preble, Aisle 7, Finding Paris
11:00am–12:00pm, Melissa Marr, Aisle 8, Made For You
12:00–1:00pm, Kiera Cass, Aisle 8, The Selection Series
1:00–2:00pm, Thanhha Lai, Aisle 8, Listen, Slowly
2:00–3:00pm, Dan Gutman, Aisle 8, Genius Files #5: License to Thrill
4:00–5:00pm, Lauren Oliver, Aisle 8, Vanishing Girls
THURSDAY, APRIL 16TH:
10:00–11:00am, Sherry Thomas, Aisle 3, The Elemental Trilogy
11:30am–12:30pm, Neal & Brendan Shusterman, Aisle 1, Challenger Deep
2:00–3:00pm, Gordon Korman, Aisle 1, Masterminds
2:00–3:00pm, Julie Murphy, Aisle 2, Dumplin' galleys
3:00–4:00pm, Becky Albertalli, Aisle 1, Simon vs. the Homo Sapiens Agenda
You don't want to miss our coupon in the aisle by aisle guide, either! It points you to our booth for a free copy of BONE GAP, by Laura Ruby (*while supplies last), and a chance to enter to win a piece of framed original art by Jef Czekaj, from his upcoming picture book, AUSTIN, LOST IN AMERICA.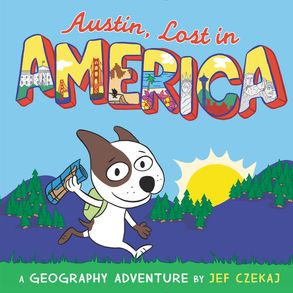 We can't wait to see y'all!
Posted by Preeti | March 25, 2015 | No Comments
It was award-winning author Patty McCormick (of Sold, Never Fall Down and several other acclaimed novels) who told me one day that I had to read a manuscript, Little Peach, from a gifted student of hers, Peggy Kern. Who would ever ignore that advice? I started reading the novel that night–and didn't stop until I was finished.
From the very first page I knew I wanted to publish this novel. The voice of Michelle-—so innocent and yet so wise beyond her years—gave me chills. When Michelle's mother chooses her boyfriend over her own daughter, Michelle knows she has no choice but to leave and she runs away to New York City, naively thinking she can look up a friend once she gets there. But once she is arrives in Port Authority she understands just how alone she is. Then she sees a face in the crowd — a young man. He is handsome, well-dressed. He is smiling at her warmly. In this intimidating, bustling city, he offers her a hand. And she takes it.
Devon, that handsome young man, isn't what he seems. He gives Michelle food, clean clothes, and a place to stay. A pimp who is well-practiced in the art of manipulation, he is slowly grooming Michelle to become one of his prostitutes. Even after he has drugged her and betrayed her in the worst way possible, Michelle doesn't leave. First, because she has nowhere to go. And then because this man, who has taken everything from her, is also the only one who is offering her security.
When Michelle is forced into unspeakable acts, her voice feels almost distant — it's as if she is living outside of her body. To protect herself, her mind still goes back to that innocence and safety she felt with her grandfather as a girl. Her new reality would be too much to process if she faced it head-on.
My favorite kinds of books are those that make you see something in a whole new light. What this book revealed to me was how far someone will go to feel loved if they have been denied this basic human need. And that is how Peach feels about the other girls in Devon's home — her "sisters" Kat and Baby. Even though at night they are forced to do unimaginable things, there are those moments when they are laughing and watching TV together, doing each other's hair and just being regular girls. It's because of her love for this new family that Michelle is finally able to find the courage to fight back.
Peggy Kern was driven to write this story for the real teen prostitutes in New York City who had stories just like Michelle's. She interviewed them and the police officers who work in the area. She saw the dingy hotel where they worked. When people ask Peggy why these girls would ever open up to her, she says that they were eager to tell their story. And no one ever cares enough to ask.
As Peggy so eloquently says in her author's note for Little Peach, as a community we don't have a place for these girls, who are often runaways with no options. So once they are arrested, they are treated as criminals instead of given the help and education that could reverse the deadly path they are on.
A question we often hear in the industry is why teen books have to be so dark. Why do they have to talk about such serious and dangerous issues? What if they lead teens to those dangerous behavior? What if teens are exposed to content that isn't appropriate for them?
There will stop being dark books for teens when these issues are no longer relevant to teens. When bad things stop happening. And sadly, that is never going to be the case. Books like Little Peach educate people and open their eyes. They take an anonymous issue and make it personal. They teach teens compassion. I have seen books work their magic. It can feel uncomfortable to face these ugly issues as a society, but it's only by facing them that we can start to make a change.
 You can find Little Peach on sale right now!
Alessandra Balzer is the Editor of Little Peach and the Co-Publisher of Balzer + Bray, an imprint of HarperCollins.
Posted by Molly | March 17, 2015 | No Comments
Today we're lucky enough to interview Paul Durham, author of the middle grade tween fantasy adventure The Luck Uglies, which received TWO starred reviews. Booklist called it "by turns funny and heart-stopping . . . a bona fide page-turner," and Kirkus said it was "sparkling. Layers, nuance, wit and a thumping good story make this a must-read." The Luck Uglies was also a Booklist Top 10 First Novels for Youth in 2014 and on the NYPL 100 Best Titles for Reading and Sharing  List of 2014. What a debut!
This tween fantasy adventure trilogy has legends come to life, a charming wit, and a fantastic cast of characters—and is imbued throughout with the magic of storytelling. The Luck Uglies #2: The Fork-Tongue Charmer, goes on sale today, so read on for the full scoop on this truly delightful middle grade series!
The Pageturn: Where did the idea for The Luck Uglies begin? And how did you develop that idea?
Paul Durham: The Luck Uglies originated as a short story for my oldest daughter. For years I had tried unsuccessfully to publish my adult crime fiction, until eventually I quit writing altogether. One year, my then-six-year-old asked me if I could write her a story as Christmas gift. I had never written for children before, but was willing to give it a try. I didn't intend to seek an agent for the work, nor to have it published. My goal was far more modest but even more important—simply to finish something for my daughter.
What started as a short story turned into so much more. I wanted to write a fantasy about good and evil and everything in between, but I also wanted it to be, at its core, a book about a very real family. Every week my own family would gather around the fireplace and I would read a new chapter out loud. I worked in our family pet, characters inspired by our friends and neighbors, and even dialogue spoken around our dinner table. When it was done, my little audience adored it, and the book would have been a success even if no one else ever read it. I'm very lucky that other readers have come to enjoy it as much as we do.
TP: Were you inspired by any specific region or folklore? For instance, it feels particularly appropriate that #2 publishes on St. Patrick's Day!
PD: My goal was to write a book that felt timeless in setting, but that was set in a unique and entirely unexplored world. Toward that end, I researched Irish and Scottish myths, early colonial American culture, and secret societies throughout history. Then I threw them in a cauldron and stirred. Village Drowning and its denizens became a stew of faintly familiar ingredients blended in way that, I hope, readers haven't quite tasted before. The Bog Noblins, for example, do not exist in any established folklore, but were inspired by the highly preserved, Bronze Age "bog bodies" pulled from peat bogs in Northern Europe and Ireland.
TP: Who is your favorite character in the book?
PD: I know many authors like to cop out on this question and profess love for all of their characters, but I'll go out on a limb and share two. Rye is dear to me, of course. It was important to me to create a strong female protagonist and to infuse her with strengths and flaws that kept her human. That said, I think Rye's strongest traits are gender-neutral, and I love that many male readers also identify her as their favorite character. My other favorite is Harmless. His relationship with Rye represents the heart of the story. Their dialogue as that relationship unfolds was even more fun to write than the all the swordplay and monsters. I adore Abby and Lottie too…oops, there I go.
TP: Can you suggest any books readers of The Luck Uglies might also like?
PD: For classic fantasy, I always recommend Lloyd Alexander's Chronicles of Prydain series. It's a personal favorite and I've even hidden several Easter eggs referencing that great work within The Luck Uglies series. Maybe I'll have a contest to see how many of them my readers can find. I think they'd also enjoy Jonathan Auxier's work—The Night Gardener or Peter Nimble and His Fantastic Eyes.
TP: And if you could cast the movie, who would star?
PD: I would definitely need the guidance of a casting director to find a young unknown actress with the chops to play Rye. As for Harmless, I think he would be best played by one of those 40-something action heroes who has entered a different phase of his life and career. Maybe a father to young children who could appreciate the nuances in the character. Who would that be? I don't know. Robert Downey Jr.? Johnny Depp? Ben Affleck when he's done with Batman?
TP: What were your favorite books as a child? Favorite books now?
PD: As a child, Lloyd Alexander's Chronicles of Prydain series was at the top of the list. I also remember being drawn to A House with a Clock in its Walls, by John Bellairs. These days, my favorite books still tend to fall into the category of middle grade fiction. I'm especially fond of those that can be haunting, smart, and humorous at the same time. The Graveyard Book and Coraline by Neil Gaiman are favorites, as is the The Bartimaeus Trilogy and the new Lockwood & Company books by Jonathan Stroud. I also found the The One and Only Ivan by Katherine Applegate to be wonderful for very different reasons. Applegate proves that compelling children's books need not always feature a child protagonist, and creates a wonderfully authentic, layered and believable voice for Ivan the silverback gorilla.
TP: Do you have any advice for aspiring kid writers?
PD: I'm fortunate to get to speak with a lot of kids during my school visits and workshops, and I always tell them four things.
1) Practice, as often as possible by writing creatively in your free time.
2) When you're not writing, read. Good stuff, ideally, but you can learn what not-to-do from the poorly written stuff too.
3) Don't be afraid to imitate your favorite writers' styles, especially early on. As a kid, I originally learned how to write action sequences by mimicking the descriptions I found in popular movie novelizations (I can't believe I just admitted that). The point is, your own voice and style will develop over time as you discover what works best for you.
4) You don't need to start out by writing an entire book—that's like running a marathon without ever going out for a jog first. Every novel starts with just one sentence. Try writing just a short paragraph of description, or a few lines of interesting dialogue, or a poem. That's all practice that will pay off in the long run. See tip #1 above.
Thanks, Paul! The Luck Uglies #2: The Fork-Tongue Charmers, goes on sale today. If you're new to Paul's series, check out the first book, The Luck Uglies, here. And learn more about Paul, here!
Posted by Robin | January 27, 2015 | 3 Comments
Happy 2015 to you! To start the year off right, we'd like to introduce our New Voices picks for Winter 2015. These debut novels entertained us, enriched us, intrigued us, and made us so excited to witness the beginnings of these authors' sure-to-be-stellar writing careers.
Click on the links below to read the first chapter of each title, and make sure to keep an eye on these fantastic authors. We can't wait to see what they do next!
BLACKBIRD FLY, by Erin Entrada Kelly, follows twelve-year-old Apple Yengko as she grapples with being different, with friends and backstabbers, and with following her dreams. Apple has always felt a little different from her classmates. She and her mother moved to America from the Philippines when she was little, and her mother still cooks Filipino foods, makes mistakes with her English, and chastises Apple for becoming "too American." But it becomes unbearable in eighth grade, when the boys—the stupid, stupid boys—in Apple's class put her name on the Dog Log, the list of the most unpopular girls in school. When Apple's friends turn on her and everything about her life starts to seem weird and embarrassing, Apple turns to music. If she can just save enough to buy a guitar and learn to play, maybe she can change herself. It might be the music that saves her . . . or it might be her two new friends, who show how special she really is. Read the first chapter here!
THE KEEPERS: THE BOX AND THE DRAGONFLY, by Ted Sanders, is the first in a four-book middle-grade fantasy series about Horace F. Andrews, a quiet boy who discovers he possesses a power that can change worlds. When a sign leads Horace underground to the House of Answers, a hidden warehouse full of mysterious objects, he unfortunately finds only questions. What is this curious place? Who are the strange, secretive people who entrust him with a rare and immensely powerful gift? And what is he to do with it? From the enormous, sinister man shadowing him to the gradual mastery of his new-found abilities to his encounters with Chloe—a girl who has an astonishing talent of her own—Horace follows a path that puts the pair in the middle of a centuries-old conflict between two warring factions in which every decision they make could have disastrous consequences. Read the first chapter here!
NO PARKING AT THE END TIMES, by Bryan Bliss, is a thoughtful and moving story about losing everything—and about what you will do for the people you love. Abigail's parents never should have made that first donation to that end-of-times preacher. Or the next, or the next. They shouldn't have sold their house. Or packed Abigail and her twin brother, Aaron, into their old van to drive across the country to San Francisco, to be there for the "end of the world." Because now they're living in their van. And Aaron is full of anger, disappearing to who-knows-where every night. Their family is falling apart. All Abigail wants is to hold them together, to get them back to the place where things were right. But is that too big a task for one teenage girl? Read the first chapter here!
RED QUEEN, by Victoria Aveyard, is a sweeping fantasy about seventeen-year-old Mare, a common girl whose latent magical powers draw her into the dangerous world of the elite ruling class. Mare Barrow's world is divided by blood—those with Red blood serve the Silver elite, whose silver blood gifts them with superhuman abilities. Mare is a Red, scraping by as a thief in a poor, rural village until a twist of fate throws her in front of the Silver court. Before the King, princes, and all the nobles, she discovers she has an ability of her own. To cover up this impossibility, the King forces her to play the role of a lost Silver princess and betroths her to one of his own sons. As Mare is drawn further into the Silver world, she risks everything to use her new position to help the Scarlet Guard—a growing Red rebellion—even as her heart tugs her in an impossible direction. One wrong move can lead to her death, but in the dangerous game she plays, the only certainty is betrayal. Read the first chapter here!
LITTLE PEACH, by Peggy Kern, is the gritty and riveting story of a runaway who comes to New York City and is lured into prostitution by a manipulative pimp. When Michelle runs away from her drug-addicted mother, she has just enough money to make it to New York, where she hopes to move in with a friend. But once she arrives at the bustling Port Authority, she is confronted with the terrifying truth: She is alone and out of options. Then she meets Devon, a good-looking, well-dressed guy who emerges from the crowd armed with a kind smile, a place for her to stay, and eyes that seem to understand exactly how she feels. But Devon is not what he seems to be, and soon Michelle finds herself engulfed in the world of child prostitution. It is a world of impossible choices, where the line between love and abuse, captor and savior, is blurred beyond recognition. This hauntingly vivid story illustrates the human spirit's indomitable search for home, and one girl's struggle to survive. Read the first chapter here.
SIMON VS. THE HOMO SAPIENS AGENDA, by Becky Albertalli, is an incredibly funny and poignant twenty-first-century coming-of-age, coming-out story—wrapped in a geek romance. Sixteen-year-old and not-so-openly gay Simon Spier prefers to save his drama for the school musical. But when an email falls into the wrong hands, his secret is at risk of being thrust into the spotlight. Now Simon is actually being blackmailed: If he doesn't play wingman for class clown Martin, his sexual identity will become everyone's business. Worse, the privacy of Blue, the pen name of the boy he's been emailing with, will be jeopardized. With some messy dynamics emerging in his once tight-knit group of friends, and his email correspondence with Blue growing more flirtatious every day, Simon's junior year has suddenly gotten all kinds of complicated. Now, change-averse Simon has to find a way to step out of his comfort zone before he's pushed out—without alienating his friends, compromising himself, or fumbling a shot at happiness with the most confusing, adorable guy he's never met. Read the first chapter here!

Check back here for "Opening the Book" Q&A's with the authors and insightful words from the editors of these fantastic New Voices!
Posted by Molly | October 9, 2014 | No Comments
EVEN IN PARADISE, by Chelsey Philpot, is available next week! Read an excerpt here.
When asked to explain the plot of Even in Paradise, my first young adult novel, I start by saying, "Well it's a realistic, contemporary story inspired by Evelyn Waugh's Brideshead Revisited."
Blank stares.
I foolishly try to shed light on my plot by describing the plot of Brideshead. "It's a novel set in post-World War I England. The protagonist's an artist named Charles Ryder, and his friendship with a fellow Oxford University student leads to Charles's life becoming inextricably intertwined with the majestic and tragic Marchmain family."
The quizzical expressions deepen, prompting me to wax poetic about Waugh's classic.
Fifteen or so minutes later, my audience is usually still confused—if not a little bored and thinking about lunch.
At this point, I sigh and give the one-sentence pitch I should have delivered at the beginning—an explanation that is just as true as my convoluted original. "Even in Paradise is about a teen girl who falls in love with a Kennedy-esque family with a tragic secret."
"Ah!"
I could just as easily say, "It's a novel about different kinds of love." Or "It's about friendship and family." Or "My story looks at class, sexuality, and the destructive nature of secrets."
Though, Even in Paradise began as a modern retelling of Brideshead, it is now very different from Waugh's novel. As I wrote deeper and deeper into my story, I found that I couldn't keep within the confines of another's—even if that story was written by a maestro. By moving Brideshead from the front of my imagination to the back, I made room for other sources of unexpected—but welcomed—inspiration, such as F. Scott Fitzgerald's The Great Gatsby and my own memories.
Even in Paradise turned out to be as much a deliberate homage to books and writers I adore as it is a collage of untraceable ideas. It took time and many drafts to realize that I could not have written my first novel any other way.
10 awesome books that imaginatively interpret, celebrate, and/or satirize classic stories:
Going Bovine by Libba Bray (Don Quixote by Miguel de Cervantes)
Beauty Queens by Libba Bray (Lord of the Flies by William Golding)
March by Geraldine Brooks (Little Women by Louisa May Alcott)
The Hours by Michael Cunningham (Mrs. Dalloway by Virginia Woolf)
The Graveyard Book by Neil Gaiman (The Jungle Book by Rudyard Kipling)
Ash by Malinda Lo (Cinderella by the Brothers Grimm)
Far Far Away by Tom McNeal (Grimm's Fairy Tales)
"His Dark Material" trilogy by Philip Pullman (Paradise Lost by John Milton)
Breadcrumbs by Anne Ursu (The Snow Queen by Hans Christian Andersen)
The Real Boy by Anne Ursu (The Adventures of Pinocchio by Carlo Collodi)
–Chelsey
Chelsey Philpot grew up on a farm in New Hampshire and now works as a book reviews editor at School Library Journal. She's written for the New York Times, Boston Globe, Slate, and numerous other publications. Like her main character, Charlie, Chelsey attended boarding school in New England, and then earned a degree in English from Vassar College and a master's in Journalism from Boston University. Visit her online at www.chelseyphilpot.com and on Twitter @ChelseyPhilpot.
Posted by Molly | September 12, 2014 | No Comments
Looking for a fantasy read that's great for the classroom this fall? One stellar recommendation is The Copernicus Legacy: The Forbidden Stone by bestselling author Tony Abbott – now in paperback!
A perfect pick for kids who love Percy Jackson, Kingdom Keepers, or Seven Wonders series, The Copernicus Legacy is a Da Vinci Code-style story for young readers. The book follows four kids who stumble upon a powerful ancient secret of the famous astronomer, Nicolaus Copernicus. Protected by notables throughout history, it now falls to our young heroes to become guardians of Copernicus's secret, racing across the globe, cracking codes, and unraveling centuries-old mysteries in order to prevent it from falling into the hands of a vast and evil shadow network called the New Teutonic Order.
It's the worldwide adventure and historical scope that makes the series both page turning and educational, earning it many great reviews including a starred review from Kirkus: "With engaging characters, a globe-trotting plot and dangerous villains, it is hard to find something not to like. Equal parts edge-of-your-seat suspense and heartfelt coming-of-age."
There's even a downloadable Common Core-aligned activities guide and star map poster so you can bring the adventure into the classroom.
Veteran children's book author Tony Abbott is no stranger to epic adventure series having written over a hundred books including The Secrets of Droon. The Copernicus Legacy will include six full-length novels and six shorter novellas, each told from the perspective of one of the kids. The first novella, The Copernicus Archives #1: Wade and the Scorpion's Claw, is available now and the next full-length novel, The Copernicus Legacy #2: The Serpent's Curse, will be out on October 7.
To celebrate the launch of the next books in this exciting series, on Saturday, September 13th, Tony Abbott will be leading a scavenger hunt at the American Museum of Natural History in New York City, where four lucky winners of a national sweepstakes will work together to find hidden clues amongst the exhibits, crack codes, and earn prizes. You and all readers across the country will have another chance to win a trip to New York for the second Relic Hunt starting October 7 at www.thecopernicuslegacy.com!
After the Relic Hunt, Tony Abbott will be signing copies of The Forbidden Stone at 2:30pm at the Barnes & Noble on 82nd and Broadway in Manhattan.  The Barnes & Noble event is open to the public, and we invite you to join us there for a pizza party! It's no mystery—the whole family will be in for good food and fun!
Posted by Robin | July 29, 2014 | No Comments
Looking for some recommendations for a middle grader who loves fantasy? Well, we've got just the list for you!
Here are some stellar picks for the kid looking for magical powers, mysterious forests, heros, and villains to take to the beach with him.
THE THICKETY, by J. A. White, is the start of a new fantasy series set in a world where magic is forbidden but exists in the dark woods called the Thickety. This book would be a great recommendation for fans of the Septimus Heap series, and here's a book talk prepared by librarian, author, and Common Core workshop presenter Kathleen Odean:

How would you like to have the power to summon amazing creatures to do your will? When Kara finds a book in the Thickety, a dangerous forest, it awakens her magical powers. Local villagers view magic as evil but for Kara, it's a connection to her mother, who was executed as a witch. The spells thrill Kara until the magic starts to change her in frightening ways. Is Kara in control of the magic—or is it in control of her? If she doesn't figure it out soon, she could lose everyone and everything she loves.
There's even a Common Core-aligned discussion guide with activities written by the author, J. A. White—an elementary school teacher! (You may not want to send this to the beach, though. Maybe save it for September.)
THE CASTLE BEHIND THORNS, by Schneider Award winner Merrie Haskell, is a magical adventure set in an enchanted castle that will appeal to fans of Gail Carson Levine, Karen Cushman, and Shannon Hale.
When Sand wakes up alone in a long-abandoned castle, he has no idea how he got there. Everything in the castle—from dishes to candles to apples—is torn in half or slashed to bits. Nothing lives here and nothing grows, except the vicious, thorny bramble that prevents Sand from leaving. To survive, Sand does what he knows best—he fires up the castle's forge to mend what he needs to live. But the things he fixes work somehow better than they ought to. Is there magic in the mending, granted by the saints who once guarded this place? With gorgeous language and breathtaking magic, THE CASTLE BEHIND THORNS tells of the power of memory and story, forgiveness and strength, and the true gifts of craft and imagination.
Thinking ahead to the new school year, Common Core applications include: Comparing and contrasting texts in different forms or genres; determining the meaning of words and phrases as they are used in a text, including figurative and connotative meanings; and analyzing the impact of a specific word choice on meaning and tone.
THE DYERVILLE TALES, by M. P. Kozlowsky, tells the story of a young orphan who searches for his family and the meaning in his grandfather's book of lost fairy tales.
Vince Elgin is an orphan, having lost his mother and father in a fire when he was young. With only a senile grandfather he barely knows to call family, Vince was interned in a group home, dreaming that his father, whose body was never found, might one day return for him. When a letter arrives telling Vince his grandfather has passed away, he is convinced that if his father is still alive, he'll find him at the funeral. He strikes out for the small town of Dyerville carrying only one thing with him: his grandfather's journal. The journal tells a fantastical story of witches and giants and magic, one that can't be true. But as Vince reads on, he finds that his very real adventure may have more in common with his grandfather's than he ever could have known.
If you'd like to bring this one into your classroom next year, Common Core applications include: Determining the meaning of words and phrases as they are used in a text; analyzing the impact of a specific word choice on meaning and tone; describing how a particular story's plot unfolds in a series of episodes; and describing how the characters respond or change as the plot moves toward a resolution.
THE HERO'S GUIDE TO BEING AN OUTLAW, by Christopher Healy, is the hilarious and action-packed conclusion to the acclaimed hit series that began with THE HERO'S GUIDE TO SAVING YOUR KINGDOM.
Prince Liam. Prince Frederic. Prince Duncan. Prince Gustav. You think you know those guys pretty well by now, don't you? Well, think again. Posters plastered across the thirteen kingdoms are saying that Briar Rose has been murdered—and the four Princes Charming are the prime suspects. Now they're on the run in a desperate attempt to clear their names. Along the way, however, they discover that Briar's murder is just one part of a nefarious plot to take control of all thirteen kingdoms—a plot that will lead to the doorstep of an eerily familiar fortress for a final showdown with an eerily familiar enemy.
And Common Core applications for this one include: Explaining how an author develops the point of view of the narrator or speaker in a text; comparing and contrasting texts in different forms or genres; and analyzing how differences in the points of view of the characters and the reader (e.g., created through the use of dramatic irony) create such effects as suspense or humor.
Happy reading!
Posted by Robin | July 24, 2014 | 1 Comment
We're so excited to share with you I AM A WITCH'S CAT, available this week, written and illustrated by Harriet Muncaster.
We in the HCCB School & Library department are pretty huge fans of tiny things (dollhouse food, figurines, these amazing things . . . you name it), and we couldn't be more delighted to have found a kindred spirit in Harriet Muncaster. Harriet's book tells the story of a little girl who believes that her mother is a good witch and that she is a special witch's cat, and it's illustrated with photographs of handmade miniatures—characters, furniture, accessories, and details, all lovingly crafted and composed into scenes. We just love it to pieces.
Harriet was kind enough to give us a behind-the-scenes looks at her process for creating the fantastic art from I AM A WITCH'S CAT.
Harriet Muncaster:
I have always been fascinated by tiny things. When I was young I spent my time making miniature houses and clothes and writing minuscule fairy letters. That love of tiny things has never left me, and so, when I took illustration as my degree at university, it felt almost natural to start making my pictures in 3D. I create dollhouse-sized scenes (or sets, as I call them) out of cardboard and fabric and then photograph them to make a flat picture.
In these photos, you can see some of the process I go through to make the scenes. If it is a room, I usually start with a box-like shape and then put in the flooring and wallpaper. I either paint the wallpaper on or make it on the computer and stick it on as you would proper wallpaper (like in the bedroom scene below)!
The furniture is made from card stock. It gives me a lot of freedom to make everything from card because I can literally make it into any shape I like. I can use the card to make something really fancy or really plain and in whatever style I like.
I also like the way one can use lighting when creating a 3D picture. It is possible to really set the mood by using different sorts of atmospheric lighting. My favourite bit of lighting in the book is the scene where Witch's Cat is saying goodbye to her Mom at the door and the coloured glass in the door is shining against the wall in a rainbow pattern. I got this effect by using coloured cellophane sweet wrappers and then shining a light behind them.
The hardest thing to make in the book was the trolley in the supermarket scenes. It took me absolutely ages and was extremely difficult and fiddly to make! It's definitely the most delicate thing in the whole book.
One of my favourite things to make in the book was the patchwork quilt on the bed. I just love the colours in it, which are quite autumnal. I tried to incorporate a lot of autumnal colours into the room scenes, as it is a Halloween book.
It feels very magical when a scene becomes finished and you can look right into it and touch it. It's a real, tiny little world of its own with its own atmosphere and feel to it. I love how tangible it is!
Thank you so much, Harriet!
Check out Harriet's great blog for a whole lot of miniature inspiration, including a post about how she created the cover art for I AM A WITCH'S CAT. And in case you haven't quite had your fill of tiny for the day, here are some bonus photos:
Posted by Robin | July 16, 2014 | No Comments
Today we celebrate the birthday of Ida. B. Wells—activist, educator, writer, journalist, suffragette, and pioneering voice against the horror of lynching. Born on July 16, 1862, Ms. Wells used fierce determination and the power of the pen to educate the world about the unequal treatment of blacks in the United States.
If you're looking for an entry point into civil rights discussions with younger (or even older) readers, consider this picture book biography by the beloved Walter Dean Myers.
"The way to right wrongs is to turn the light of truth upon them."—Ida B. Wells
Posted by Robin | April 29, 2014 | No Comments
The lovely Lisa Ann Scott, author of the enchanting debut novel SCHOOL OF CHARM, stopped by recently to answer our "opening the book" questions. In case you missed it, here's a little intro and sneak peek of the book from earlier this year. And now, without further ado . . . Lisa Ann Scott!
Which was your favorite book from childhood, and what are you reading right now?
I am reading fellow Class of 2K14 member Rebecca Behrens' adorable middle-grade novel, When Audrey Met Alice. Can I claim the entire Little House series as my favorite book growing up? [WE SAY "YES!"]
What is your secret talent?
While I tend to kill most indoor plants, I have beautiful outdoor gardens and a koi pond. People tell me I should design gardens for a living. But then I wouldn't have time to write!
Fill in the blank: My two kids always make me laugh.
My current obsessions are . . .
Whatever series I've found on Netflix, HBO GO etc. that I will binge watch. (Game of Thrones and Dexter are recent addictions.)
Any gem of advice for aspiring writers?
Never give up. (See story below.)
Finish this sentence: I hope a person who reads my book . . .
. . . looks for real life magic in their world, and remembers all the wonderful things about themselves that make them unique and special.
How did you come to write this book?
Grab a snack and sit back for this answer. The seeds of this story came from a dream. I woke one morning with the image of a lovely older woman standing in a clearing in the forest. She was surrounded by a small group of girls and it was clear she was teaching them something, but she had a very knowing look on her face, like there was a secret they had yet to learn.  Now most people would have shrugged and thought, hey, weird dream. But when you're a writer, something like that tugs at the imagination.  So I walked around with this story in my head for a while, trying to figure out who was there and why they were there.  I wrote this during my lunch breaks when I was working as a news anchor back in 2007.  In 2008, I started the query process, looking for an agent. But then I lost my job, and that grief on top of the inevitable rejection that comes with the query process was just too much to take. So I set the book aside and actually stopped writing for a while.  It wasn't long before I was writing again (romance!) and in 2011, took another look at the manuscript. I thought, hey this is pretty good, and a writer friend urged me to send it out again. So I did.  To one agent. And then I remembered how much I hated the query process and stopped. But that one lovely agent, Jennifer Unter, loved the book and sold it a few months later.
———-
Thanks for visiting, Lisa!