Category Archives:
Conferences
Posted by Molly | April 12, 2015 | No Comments
We're soon to touch down in one of our absolute favorite literary states for the Texas Library Association Conference in Austin! If there's anything better than talking books, hanging out with authors and librarians, and enjoying sunshine and Shiners, then we don't want to know about it.
If you'll be in the Lone Star State, too, please swing by our booth, #1341, for galleys, giveaways, and face time with the HarperCollins Children's Books School & Library team. We can't wait to chat and put books in your hands.
But if you're reading this thinking, "sure, you guys are nice, but we're here to meet the AUTHORS, silly!" check out our top-notch signing schedule, here:
WEDNESDAY, APRIL 15TH:
11:00am–12:00pm, Joy Preble, Aisle 7, Finding Paris
11:00am–12:00pm, Melissa Marr, Aisle 8, Made For You
12:00–1:00pm, Kiera Cass, Aisle 8, The Selection Series
1:00–2:00pm, Thanhha Lai, Aisle 8, Listen, Slowly
2:00–3:00pm, Dan Gutman, Aisle 8, Genius Files #5: License to Thrill
4:00–5:00pm, Lauren Oliver, Aisle 8, Vanishing Girls
THURSDAY, APRIL 16TH:
10:00–11:00am, Sherry Thomas, Aisle 3, The Elemental Trilogy
11:30am–12:30pm, Neal & Brendan Shusterman, Aisle 1, Challenger Deep
2:00–3:00pm, Gordon Korman, Aisle 1, Masterminds
2:00–3:00pm, Julie Murphy, Aisle 2, Dumplin' galleys
3:00–4:00pm, Becky Albertalli, Aisle 1, Simon vs. the Homo Sapiens Agenda
You don't want to miss our coupon in the aisle by aisle guide, either! It points you to our booth for a free copy of BONE GAP, by Laura Ruby (*while supplies last), and a chance to enter to win a piece of framed original art by Jef Czekaj, from his upcoming picture book, AUSTIN, LOST IN AMERICA.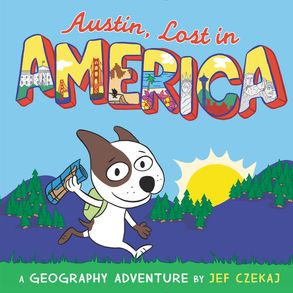 We can't wait to see y'all!
Posted by Molly | January 30, 2014 | No Comments
Working in children's books, there are few days that can compare to the Monday morning of the ALA Midwinter conference, when the ALA Youth Media Awards are announced.  Cheers and gasps follow the announcement of every award named, and hugs and happiness end the conference on the highest of notes. What a great day for authors, illustrators, librarians, teachers, publishing professionals, and book lovers all over the world! We are so honored that awards committees named the following HarperCollins Children's Books titles amongst the best and the brightest this year:
Coretta Scott King Author Award to Rita Williams-Garcia, for P.S. BE ELEVEN
Newbery Honor to Kevin Henkes, for THE YEAR OF BILLY MILLER.
Schneider Family Book Award for Middle Grade to Merrie Haskell, for HANDBOOK FOR DRAGON SLAYERS
Theodor Seuss Geisel Honor to Kevin Henkes for PENNY AND HER MARBLE
Coretta Scott King Author Honor to Walter Dean Myers, for DARIUS & TWIG
Coretta Scott King Illustrator Honor to Kadir Nelson, for NELSON MANDELA
Pura Belpre Illustrator Honor to Rafael Lopez for TITO PUENTE, MAMBO KING (written by Monica Brown)
We're grateful to publish these books, written and illustrated by the most creative, dedicated folks we know, and put them into your hands, the teachers and librarians who give them to children and promote a life-long love of learning. What a fine day to do what we do!
Posted by Molly | November 19, 2013 | No Comments
We're packing up and heading up to Boston tomorrow for the Annual Conference of the National Council of Teachers of English. We'll be in HarperCollins Children's Books Booth #1008 every day, handing out materials aligned to the Common Core State Standards (like posters and teaching guides) and galleys galleys galleys!
Come say hello to the amazing authors who will be signing copies of their books:
FRIDAY, NOVEMBER 22nd:
12:00–1:00pm, Jarrett Krosoczka
1:00–2:00pm, Anne Ursu
2:00–3:00pm, Hilary T. Smith
3:00–4:00pm, Rita Williams-Garcia
4:00–5:00pm, Kevin Emerson
*5:00–6:00pm, 50 Years Later C.S. Lewis Legacy Celebration! Come by for hot chocolate, cookies, a free copy of The Lion, the Witch, and the Wardrobe, and a free CCSS-aligned Narnia series Teaching Guide!*
SATURDAY, NOVEMBER 23rd:
10:00–11:00am, Patricia MacLachlan
12:00–1:00pm, Neal Shusterman
1:00–2:00pm, Jerry Spinelli
3:00–4:00pm, Pat Mora
SUNDAY, NOVEMBER 24th:
9:30–10:30am, Katie Cotugno
11:00am–12:00pm, Chris Crutcher
Hope to see you there!
Posted by Molly | July 16, 2013 | No Comments
Take a walk down memory lane with us via this photo-dump of our very favorite ALA images…
Our booth was looking pretty snazzy.  This is before 26,000 people descended on the exhibit hall, so we still all had all of our fingers and toes…
Were you lucky enough to attend this year's ALSC Preconference, "A Wild Ride: 75 Years of the Caldecott Medal" at the Art Institute of Chicago? If so, we're horribly jealous.
It takes a village to run a Veronica Roth signing– and we are happy to be that village!  It's amazing to see how involved fans feel in Veronica's world, and how highly they (and we) are anticipating the movie (coming out in 2014!) and ALLEGIANT (on sale 10.22.13).
A moment to pinch yourself and make sure you're not dreaming: THREE Newbery medalists in our booth at the same time.  Katherine Patterson, Katherine Applegate, and Patricia McLachlan.  We might have gone a little paparazzi on these lovely ladies… but who can blame us?!
During our Newbery committee dinner celebrating THE ONE AND ONLY IVAN, a beautiful rainbow appeared in the sky over the city.
Our very own (we can claim her as all ours since she wrote GIANT DANCE PARTY for Greenwillow Books) Betsy Bird, wearing our favorite ensemble of the Newbery-Caldecott-Wilder Banquet, which represented all 5 of this year's Caldecott books.
This crew (Kevin Henkes, Laura Dronzek, Judy Zuckerman, and Virginia Duncan) all dressed up in honor of Kevin's 2005 Caldecott-winning KITTEN'S FIRST FULL MOON.
And finally, a little storytime in the booth! Mac Barnett and Jon Klassen, genius and adorable duo, had us all smiling on the last day of exhibits (no easy feat).
A HUGE thank you to all who helped make this ALA one for the ages!
Posted by Molly | June 25, 2013 | No Comments
If you peeked into our offices today, you might be a little alarmed at the frantic packing and printing and prepping for ALA Annual in Chicago at the end of the week!  Chicago itself might be a little frantic today as well, considering that the Blackhawks won their 5th Stanley Cup last night! Full disclosure: Chicago gal here
!
Will you be in the Windy City as well? If so, please come by our booth and say hello to our amazing group of absurdly talented authors and illustrators.  Can you believe this crew?  Too good!
All signings take place in Booth #2407:
FRIDAY, JUNE 28th:
6:00–7:00pm, Paul Zelinsky
6:00–7:00pm, Anne Ursu
SATURDAY, JUNE 29th:
9:30–10:00am, Betsy Bird
9:30–10:00am, Margaret McNamara
10:00–11:00am, emily m. danforth (Morris Award Finalist!)
11:00am–12:00pm, Mo Willems
12:00–1:00pm, Peter Lerangis
2:00–3:00pm, Veronica Roth (*limited, ticketed signing. Tickets will be available in our booth beginning Friday (6/28) at 5:30pm, while supplies last*)
4:00–5:00pm, Kadir Nelson
SUNDAY, JUNE 30th:
9:30–10:30am, Kevin Henkes
10:30–11:30am, Katherine Patterson (Wilder Award Winner!)
10:30–11:30am, Patricia McLachlan
10:30–11:30am, Katherine Applegate (Newbery Award Winner!)
12:30–1:30pm, Michael Grant
1:30–2:00pm, Jarrett Krosoczka
1:30–2:00pm, Francesca Lia Block
2:00–3:00pm, James Dean & Eric Litwin (Geisel Honorees!)
3:00–3:30pm, Melissa Sweet
MONDAY, JULY 1st:
9:30–11:00am, Katherine Applegate (Newbery Award Winner!)
11:00am–12:00pm, Jon Klassen (Caldecott Honoree!) & Mac Barnett
Hope to see you there!
Posted by Molly | April 17, 2013 | No Comments
Next week we're exhibiting at one of our very favorite conferences of the year (shh, don't tell anybody!)– the Texas Library Association Annual Conference.  If you'll be there too, we'd love to meet you!  We're HarperCollins Children's Books Booth #2232, and we have so many fun things to give you!  Galleys, discussion guides, reading kits, smiles, stories– you name it, we've got it.
We also have some very very stellar authors at panels and signing in the Author Signing Aisles.  Check it out!
THURSDAY, APRIL 25TH:
11—12                   Peter Lerangis
AISLE: 3
11—12                   Chris Rylander
AISLE: 2
11—12:30           Jon Klassen
AISLE: 6
12—1                     Bob Shea
AISLE 12
1—2                       Patrick Carman
AISLE: 9                                                              
1—2                       Kelley Armstrong
AISLE: 7
2—3                       Kiersten White
AISLE: 11
2—3                       Melissa Marr
AISLE: 10
3—4                       Tera Lynn Childs
AISLE 11
3:30—4:30       Amy Krouse Rosenthal
AISLE: 3
FRIDAY, APRIL 26TH:
10:30—11:30       Seymour Simon
AISLE: 5
2—3                       Jarrett Krosocszka
AISLE: 9
3—4                       Jennifer Archer
AISLE: 4
We can't wait!  And none of us have ever been to Fort Worth before, so if you have any recommendations, let us know!  See y'all soon.
Posted by Molly | April 16, 2013 | No Comments
Later this week we're heading down to one of our very favorite states, Texas, with some star authors, to exhibit at the International Reading Association Annual Conference.
Will you be in San Antonio too? If so, come visit us at HarperCollins Children's Books Booth #3451!  We're going to be giving out oodles of galleys, teaching guides, bookmarks, and other materials– with lots aligned to the Common Core State Standards.
Here's where you can find our authors:
SATURDAY, April 20th
2:00–3:00PM, JANE O'CONNOR, Anderson's Booth #1003
SUNDAY, April 21st
1:00–2:00PM, WALTER DEAN MYERS, HarperCollins Children's Books Booth #3451
1:00–2:00PM, JON SCIESZKA, Anderson's Booth #1003
2:00–3:00PM, SEYMOUR SIMON, HarperCollins Children's Books Booth #3451
MONDAY, April 22nd
MO WILLEMS IRA Closing Keynote:
"A Hippopotamus Wouldn't Fit on the Page and Other Reasons that Mo Willems Writes About Pigeons"
Convention Center Exhibit Hall D
Book signing immediately following
12:00–1:00PM, MICHAEL HALL, HarperCollins Children's Books Booth #3451
Come by our booth and say hello!
Posted by Molly | February 1, 2013 | 1 Comment
The news is now far and wide, but we want to officially say– yahoo!  This past weekend in Seattle at the Midwinter Meeting of the American Library Association, six of our titles were honored by awards committees and we are beyond bowled over with excitement and pride.  Congratulations to all– to the authors, editors, fans, and champions of these books.  Every Midwinter we are so grateful to be reminded that the community we book-people live and work within is vibrant, supportive, and very, very much alive and kicking. We are all in it together.
All of our award-winning books living together in harmony.
Newbery Committee member Susannah Richards placing IVAN's shiny sticker!
EXTRA YARN co-editor (VP and co-publisher of Balzer + Bray) Alessandra Balzer doing the honors!
Printz Committee friends giving DODGER their love.
Schneider committee and A DOG CALLED HOMELESS editor Sarah Shumway celebrating.
And Amelia Bedeila (did you celebrate AMELIA BEDELIA DAY?) wanted in on the fun, too!
Congratulations to all authors and illustrators honored with 2013 awards, and the biggest and humblest of thank you's to the awards committees for their hard work, dedication, and the countless hours they spent this past year reading and discussing books.  Now we wish we could fast-forward to June and our official ALA celebrations!

Posted by Molly | January 15, 2013 | No Comments
We couldn't be more excited to be heading to beautiful Seattle for the Midwinter Meeting of the American Library Association next week– where we'll mingle with our dearest librarian and educator pals, make new friends, sing the praises of our upcoming books, become well acquainted with our umbrellas, and lure you into our booth with amazing galleys, posters, kits, and conversation!
Will you be in Seattle? If so, visit us in booth #2630!
Here's a glimpse at a few of the galleys we'll be shoving into your hands whether you like it or not:
THAT IS NOT A GOOD IDEA, by Mo Willems: Think The Artist meets I WANT MY HAT BACK meets The Pigeon! One day, a very hungry fox meets a very plump goose. A dinner invitation is offered. Will dinner go as planned? Or do the dinner plans involve a secret ingredient . . . ? A chorus of suspicious goslings beg for raucous audience participation, making this  a joy to read aloud. Mo Willems has cornered the market on totally fresh and subversive picture books.
THE GIRL FROM FELONY BAY, by J.E. Thompson: A middle grade novel set in hot and steamy South Carolina that deftly weaves an exploration of race relations into a mystery revolving around the concept of heir's property. And it stars Abbey Force—a spunky young heroine we can't wait for you to meet.  We would(humbly)  compare it to MOON OVER MANIFEST by Clare Vanderpool.
ELVIS AND THE UNDERDOGS, by Jenny Lee: Another terrific middle grade novel, this one tells the hilarious and poignant story of a sickly boy whose life is turned upside down when he gets a therapy dog . . . who can talk (bonus: the dog– a Newfoundland– sounds like Frasier Crane)!
SEVERED HEADS, BROKEN HEARTS, by Robyn Schneider: A worthy successor to THE PERKS OF BEING A WALLFLOWER and John Green. This is about high school tennis jock Ezra Faulkner, whose life is irrevocably changed by a car accident. Ezra must re-examine everyone and everything in his life, and what he takes away from his misadventures is profound and memorable.
YOU LOOK DIFFERENT IN REAL LIFE, by Jennifer Castle: We are always absolutely delighted to read excellent realistic teen fiction—and this is it.  Jennifer Castle is back with a  powerful novel about five teenagers who struggle with friendship and self-identity while being filmed for a widely-acclaimed documentary film series that revisits their lives every five years.  And by 16, living their lives on camera has made them question if who they are is who they really want to be.
Want to hear the inside scoop on even more HarperCollins Winter and Summer 2013 titles?  Then visit our Book Buzz Event on Sunday morning– all are welcome, and we hope to see you there!
9:30–10:00AM
HARPERCOLLINS CHILDREN'S BOOKS 2013 TITLE PREVIEW
 Washington State Convention Center, Room 608-609
Posted by Molly | December 17, 2012 | No Comments
We had a terrific time at NCTE and ALAN last month– dodging slot machines, searching for exits to the actual outdoors (fresh air! wow!), and ignoring the green glow of David Copperfield's visage spookily projected onto the front of our hotel all night, every night.  In the midst of all of that, we had some real fun:
Chris Crutcher hangin' with Amelia Bedelia, a pairing we thought we'd never see.  But it works, doesn't it?
The always-lovely Rita Williams-Garcia signed galleys of P.S. Be Eleven, her sequel to One Crazy Summer.
After almost a week in Sin City, Penny got a little bit worn out, poor thing.
Leaving Las Vegas (yes, I'll admit that my phone should have been totally turned off…)!
Thanks to all who stopped by our booth, said hello, picked up galleys, and talked books with us. Conferences are our favorite part of the job, and meeting the people who actually use our books with kids is the reason why!