Category Archives:
Picture Books
Posted by Molly | April 12, 2015 | No Comments
We're soon to touch down in one of our absolute favorite literary states for the Texas Library Association Conference in Austin! If there's anything better than talking books, hanging out with authors and librarians, and enjoying sunshine and Shiners, then we don't want to know about it.
If you'll be in the Lone Star State, too, please swing by our booth, #1341, for galleys, giveaways, and face time with the HarperCollins Children's Books School & Library team. We can't wait to chat and put books in your hands.
But if you're reading this thinking, "sure, you guys are nice, but we're here to meet the AUTHORS, silly!" check out our top-notch signing schedule, here:
WEDNESDAY, APRIL 15TH:
11:00am–12:00pm, Joy Preble, Aisle 7, Finding Paris
11:00am–12:00pm, Melissa Marr, Aisle 8, Made For You
12:00–1:00pm, Kiera Cass, Aisle 8, The Selection Series
1:00–2:00pm, Thanhha Lai, Aisle 8, Listen, Slowly
2:00–3:00pm, Dan Gutman, Aisle 8, Genius Files #5: License to Thrill
4:00–5:00pm, Lauren Oliver, Aisle 8, Vanishing Girls
THURSDAY, APRIL 16TH:
10:00–11:00am, Sherry Thomas, Aisle 3, The Elemental Trilogy
11:30am–12:30pm, Neal & Brendan Shusterman, Aisle 1, Challenger Deep
2:00–3:00pm, Gordon Korman, Aisle 1, Masterminds
2:00–3:00pm, Julie Murphy, Aisle 2, Dumplin' galleys
3:00–4:00pm, Becky Albertalli, Aisle 1, Simon vs. the Homo Sapiens Agenda
You don't want to miss our coupon in the aisle by aisle guide, either! It points you to our booth for a free copy of BONE GAP, by Laura Ruby (*while supplies last), and a chance to enter to win a piece of framed original art by Jef Czekaj, from his upcoming picture book, AUSTIN, LOST IN AMERICA.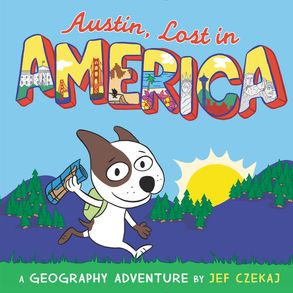 We can't wait to see y'all!
Posted by Robin | August 5, 2014 | 1 Comment
Need a little dose of positivity and acceptance today? We're here to help you out!
Watch this trailer for PETE THE CAT AND THE NEW GUY, which is on sale today. We guarantee it'll make you feel groovy!
And here's another little bit of grooviness to take with you into the coming school year: a Common Core-aligned teaching guide to all of Pete the Cat's picture books and I Can Read titles!
"Keep walking along and singing your song. Because it's all good."
Posted by Robin | July 24, 2014 | 1 Comment
We're so excited to share with you I AM A WITCH'S CAT, available this week, written and illustrated by Harriet Muncaster.
We in the HCCB School & Library department are pretty huge fans of tiny things (dollhouse food, figurines, these amazing things . . . you name it), and we couldn't be more delighted to have found a kindred spirit in Harriet Muncaster. Harriet's book tells the story of a little girl who believes that her mother is a good witch and that she is a special witch's cat, and it's illustrated with photographs of handmade miniatures—characters, furniture, accessories, and details, all lovingly crafted and composed into scenes. We just love it to pieces.
Harriet was kind enough to give us a behind-the-scenes looks at her process for creating the fantastic art from I AM A WITCH'S CAT.
Harriet Muncaster:
I have always been fascinated by tiny things. When I was young I spent my time making miniature houses and clothes and writing minuscule fairy letters. That love of tiny things has never left me, and so, when I took illustration as my degree at university, it felt almost natural to start making my pictures in 3D. I create dollhouse-sized scenes (or sets, as I call them) out of cardboard and fabric and then photograph them to make a flat picture.
In these photos, you can see some of the process I go through to make the scenes. If it is a room, I usually start with a box-like shape and then put in the flooring and wallpaper. I either paint the wallpaper on or make it on the computer and stick it on as you would proper wallpaper (like in the bedroom scene below)!
The furniture is made from card stock. It gives me a lot of freedom to make everything from card because I can literally make it into any shape I like. I can use the card to make something really fancy or really plain and in whatever style I like.
I also like the way one can use lighting when creating a 3D picture. It is possible to really set the mood by using different sorts of atmospheric lighting. My favourite bit of lighting in the book is the scene where Witch's Cat is saying goodbye to her Mom at the door and the coloured glass in the door is shining against the wall in a rainbow pattern. I got this effect by using coloured cellophane sweet wrappers and then shining a light behind them.
The hardest thing to make in the book was the trolley in the supermarket scenes. It took me absolutely ages and was extremely difficult and fiddly to make! It's definitely the most delicate thing in the whole book.
One of my favourite things to make in the book was the patchwork quilt on the bed. I just love the colours in it, which are quite autumnal. I tried to incorporate a lot of autumnal colours into the room scenes, as it is a Halloween book.
It feels very magical when a scene becomes finished and you can look right into it and touch it. It's a real, tiny little world of its own with its own atmosphere and feel to it. I love how tangible it is!
Thank you so much, Harriet!
Check out Harriet's great blog for a whole lot of miniature inspiration, including a post about how she created the cover art for I AM A WITCH'S CAT. And in case you haven't quite had your fill of tiny for the day, here are some bonus photos:
Posted by Robin | July 16, 2014 | No Comments
Today we celebrate the birthday of Ida. B. Wells—activist, educator, writer, journalist, suffragette, and pioneering voice against the horror of lynching. Born on July 16, 1862, Ms. Wells used fierce determination and the power of the pen to educate the world about the unequal treatment of blacks in the United States.
If you're looking for an entry point into civil rights discussions with younger (or even older) readers, consider this picture book biography by the beloved Walter Dean Myers.
"The way to right wrongs is to turn the light of truth upon them."—Ida B. Wells
Posted by Robin | March 3, 2014 | No Comments
The recently-published FOUNDING MOTHERS, by Cokie Roberts, presents the incredible accomplishments of the women who orchestrated the American Revolution behind the scenes.
In this vibrant nonfiction picture book, Roberts traces the stories of heroic, patriotic women such as Abigail Adams, Martha Washington, Phillis Wheatley, Mercy Otis Warren, Sarah Livingston Jay, and others through their personal correspondence, private journals, ledgers and lists, and even favored recipes. The extraordinary triumphs of these women created a shared bond that urged the founding fathers to "Remember the Ladies."
Here are some Common Core objectives that FOUNDING MOTHERS can help meet:
Refer to details and examples in a text when explaining what the text says explicitly and when drawing inferences from the text.
Describe the overall structure of events, ideas, concepts, or information in a text or part of a text.
Explain how an author uses reasons and evidence to support particular points in a text.
And here are some questions you can use and build on for a Common Core-ready lesson:
How does the structure of nonfiction text affect how we understand the material? RI.5.5
What composite structure does the author use to shape events, ideas, concepts and information? RI.5.5
What is the author's purpose for writing this book? Do you think the author is a reliable source? Discuss. RI.5.8, SL.5.1d, SL.5.4
We'll be highlighting lots more titles and how they can be used to support the Common Core in the coming months, so be sure to check back often for our Common Core Spotlight feature!
Posted by Robin | February 5, 2014 | No Comments
We're so proud of our award-winning authors, and we'd love for you to be able to use these great books in your classroom right away (if you aren't already, of course)! Read on for some teaching resources to help jump-start discussions and lessons centered around these stellar titles . . .
Here's a downloadable Kevin Henkes Author Study that includes Common Core-aligned teaching guides for THE YEAR OF BILLY MILLER, PENNY AND HER MARBLE, and several more Kevin Henkes titles.
Here's a downloadable Common Core-aligned discussion guide for Rita Williams-Garcia's P.S. BE ELEVEN, and one for ONE CRAZY SUMMER, as well.
Here are a handful of images from NELSON MANDELA that you can use as visual inspiration for lessons or projects on history, politics, biography, or even just to print and hang in your classroom or library.
Don't forget to check out our Common Core Resources page for lots more teaching guides, discussion guides, lesson ideas, and more!
Posted by Molly | January 30, 2014 | No Comments
Working in children's books, there are few days that can compare to the Monday morning of the ALA Midwinter conference, when the ALA Youth Media Awards are announced.  Cheers and gasps follow the announcement of every award named, and hugs and happiness end the conference on the highest of notes. What a great day for authors, illustrators, librarians, teachers, publishing professionals, and book lovers all over the world! We are so honored that awards committees named the following HarperCollins Children's Books titles amongst the best and the brightest this year:
Coretta Scott King Author Award to Rita Williams-Garcia, for P.S. BE ELEVEN
Newbery Honor to Kevin Henkes, for THE YEAR OF BILLY MILLER.
Schneider Family Book Award for Middle Grade to Merrie Haskell, for HANDBOOK FOR DRAGON SLAYERS
Theodor Seuss Geisel Honor to Kevin Henkes for PENNY AND HER MARBLE
Coretta Scott King Author Honor to Walter Dean Myers, for DARIUS & TWIG
Coretta Scott King Illustrator Honor to Kadir Nelson, for NELSON MANDELA
Pura Belpre Illustrator Honor to Rafael Lopez for TITO PUENTE, MAMBO KING (written by Monica Brown)
We're grateful to publish these books, written and illustrated by the most creative, dedicated folks we know, and put them into your hands, the teachers and librarians who give them to children and promote a life-long love of learning. What a fine day to do what we do!
Posted by Molly | October 4, 2013 | 1 Comment
The high is 82 degrees today in New York City, and yet it's already time to talk holiday books! I'm soaking up this warm weather, because Winter will make its appearance the way it always does: abruptly and with no mercy… but when it does, books that evoke feelings like these–nostalgia, gratitude, love for family and friends, the magic of the holiday season– are what make it all worthwhile.
Check out new sure-to-be classics from the HarperCollins Children's Books list:
THANKSGIVING DAY THANKS
by Laura Malone Elliot, illustrated by Lynn Munsinger
ISBN: 9780060002367, $17.99
On sale now!
Thanksgiving is almost here and Sam's class is excited for their Thanksgiving feast! Mary Ann is going to dress up like Squanto. Winston's building a popsicle-stick Mayflower. Jeffrey's organizing a pumpkin pie-making contest. Everyone already knows the one special thing they are thankful for—everyone but Sam, that is. When something goes wrong with Sam's surprise project, will the class be able to save it? Will Sam discover what he's thankful for?  From the author/illustrator combination of A STRING OF HEARTS.
THE TWELVE DAYS OF CHRISTMAS
written and illustrated by Susan Jeffers
ISBN: 9780062066152, $17.99
On sale now!
Splendidly rendered in Susan Jeffers's breathtaking panoramic spreads, this jovial interpretation of a holiday classic will have readers of all ages singing their way through the holidays.
MERRY CHRISTMAS, SPLAT!
by Rob Scotton
ISBN: 9780062124500 $9.99
On sale now!
It's the night before Christmas and Splat wonders if he's been a good enough cat this year to deserve a really big present. Just to make sure, Splat offers some last-minute help to his mom—but messes up completely! That night Splat stays awake hoping to see Santa Claus, only to miss him. Splat is sure his Christmas is ruined along with his hopes for a really big present. It turns out that Splat may have been on the nice list after all!

SANTA CLAUS AND THE THREE BEARS
by Maria Modugno, illustrated by Jane Dyer and Brooke Dyer
ISBN: 9780061700231 $17.99
On sale now!
One snowy night, Papa Bear, Mama Bear, and Baby Bear decide to go for a winter stroll while their Christmas pudding cools. Unbeknownst to them, a white-bearded, black-booted, jolly interloper happens upon their cottage. When the bears return, they are shocked to find their pudding eaten, their chairs broken, and their cozy beds slept in! And it looks like he's still there! Clad in a bright red jacket and completely covered in soot, there's something awfully familiar about this guy…. Who could he be?
THE SNOW QUEEN
by Hans Christian Anderson, illustrated by Bagram Ibatoulline
ISBN: 9780062209504 $17.99
On sale 10/8/13
Bagram Ibatoulline illustrates a storybook version of the classic tale about an evil queen and the ordinary girl who triumphs over her.
CHRISTMAS MOUSE
written and illustrated by Anne Mortimer
ISBN: 9780062089281 $12.99
On sale now!
It's Christmastime and Mouse has lots to do! The tree needs decorating, lights need hanging, and carols must be sung. There are presents to leave for special friends, treats to nibble on, and stockings to hang by the fire. When everything is ready, Mouse makes a Christmas wish before snuggling down to sleep. A final spread shows a very happy (and very full) Mouse lounging near his Christmas wish come true—a giant piece of cheese all his own. Anne Mortimer's cozy story celebrates the little things we do that make Christmas a magical time for all.
Posted by Robin | August 22, 2013 | 12 Comments
Looking for a fun, interactive picture book to use for story time (or any time)? Christie Matheson's debut picture book, TAP THE MAGIC TREE, fits the bill perfectly. TAP THE MAGIC TREE combines the magic of the changing seasons with the magic of turning a page as the reader taps, pats, claps, and wiggles to make leaves grow, blossoms bloom, apples appear, and leaves swirl away with the autumn breeze.

Here's a little demo of how much fun can be had with one page turn!

You can have a sneak peek up-close at the first several pages here, and you can download a Common Core-aligned Teaching Guide here. Tap away and make magic happen!
Posted by Robin | August 13, 2013 | 1 Comment
Who's ready for September? No one yet? That's alright. We still have plenty of summer left. Whenever you're ready, though, we want to help you start the school year off right with a little bit of inspiration. There are so many great back-to-school books out there that it's difficult to choose just a few, but here's a small sampling of some of our favorites!
PICTURE BOOKS:
This follow-up to "Weird Al" Yankovic's bestselling debut picture book WHEN I GROW UP will get your students (and you, too) laughing out loud. The irrepressible Billy returns in this hilarious back-to-school tale filled with wordplay and energetic rhyme.
How could you not love Amelia Bedelia and her charmingly mixed-up view of the world? We bet you can guess what happens when Amelia Bedelia is told on her first day of school to "hop on the bus." And it only gets funnier from there! You can visit www.ameliabedeliabooks.com for all kinds of fun downloadable activities and teaching resources.
BEGINNING READERS:
Kids will love this clever spin on a starting-school story by Jane O'Connor (yes, THAT Jane O'Connor, author of the beloved Fancy Nancy books!). First published in 1990 and just released with adorable new illustrations by debut illustrator Bella Sinclair, this is a perfect book for any kid who might be a little nervous about heading off to school for the first time.
Get some ideas for fancy-ing up your class from everyone's favorite Fancy Expert, and make this school year the most glamorous yet!
CHAPTER BOOKS:
Kevin Henkes's newest novel, due out September 17, is a humorous, heartwarming school and family story for young middle-grade readers. Kids will see a lot of themselves in Billy Miller, whose second-grade year includes such universal experiences as homework (dioramas!), school shows (original poetry performed at microphones!), canceled sleepovers, and epic sibling temper tantrums. Visit www.kevinhenkes.com for more information, teaching guides, and more!
Are your students hungry for more of Dan Gutman's wacky My Weird School stories? Book #8 in the My Weirder School series, DR. NICHOLAS IS RIDICULOUS!, is the most recent installment, and you can look for book #9, MS. SUE HAS NO CLUE! this October. Don't forget, you can always head over to the My Weird Classroom Club website for all kinds of great teaching resources, including downloadables, for all of the My Weird School books!
Coming soon: Back-to-school books for older readers . . . stay tuned!