Category Archives:
YA Books
Posted by Molly | April 12, 2015 | No Comments
We're soon to touch down in one of our absolute favorite literary states for the Texas Library Association Conference in Austin! If there's anything better than talking books, hanging out with authors and librarians, and enjoying sunshine and Shiners, then we don't want to know about it.
If you'll be in the Lone Star State, too, please swing by our booth, #1341, for galleys, giveaways, and face time with the HarperCollins Children's Books School & Library team. We can't wait to chat and put books in your hands.
But if you're reading this thinking, "sure, you guys are nice, but we're here to meet the AUTHORS, silly!" check out our top-notch signing schedule, here:
WEDNESDAY, APRIL 15TH:
11:00am–12:00pm, Joy Preble, Aisle 7, Finding Paris
11:00am–12:00pm, Melissa Marr, Aisle 8, Made For You
12:00–1:00pm, Kiera Cass, Aisle 8, The Selection Series
1:00–2:00pm, Thanhha Lai, Aisle 8, Listen, Slowly
2:00–3:00pm, Dan Gutman, Aisle 8, Genius Files #5: License to Thrill
4:00–5:00pm, Lauren Oliver, Aisle 8, Vanishing Girls
THURSDAY, APRIL 16TH:
10:00–11:00am, Sherry Thomas, Aisle 3, The Elemental Trilogy
11:30am–12:30pm, Neal & Brendan Shusterman, Aisle 1, Challenger Deep
2:00–3:00pm, Gordon Korman, Aisle 1, Masterminds
2:00–3:00pm, Julie Murphy, Aisle 2, Dumplin' galleys
3:00–4:00pm, Becky Albertalli, Aisle 1, Simon vs. the Homo Sapiens Agenda
You don't want to miss our coupon in the aisle by aisle guide, either! It points you to our booth for a free copy of BONE GAP, by Laura Ruby (*while supplies last), and a chance to enter to win a piece of framed original art by Jef Czekaj, from his upcoming picture book, AUSTIN, LOST IN AMERICA.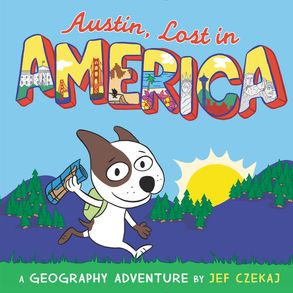 We can't wait to see y'all!
Posted by Preeti | March 25, 2015 | No Comments
It was award-winning author Patty McCormick (of Sold, Never Fall Down and several other acclaimed novels) who told me one day that I had to read a manuscript, Little Peach, from a gifted student of hers, Peggy Kern. Who would ever ignore that advice? I started reading the novel that night–and didn't stop until I was finished.
From the very first page I knew I wanted to publish this novel. The voice of Michelle-—so innocent and yet so wise beyond her years—gave me chills. When Michelle's mother chooses her boyfriend over her own daughter, Michelle knows she has no choice but to leave and she runs away to New York City, naively thinking she can look up a friend once she gets there. But once she is arrives in Port Authority she understands just how alone she is. Then she sees a face in the crowd — a young man. He is handsome, well-dressed. He is smiling at her warmly. In this intimidating, bustling city, he offers her a hand. And she takes it.
Devon, that handsome young man, isn't what he seems. He gives Michelle food, clean clothes, and a place to stay. A pimp who is well-practiced in the art of manipulation, he is slowly grooming Michelle to become one of his prostitutes. Even after he has drugged her and betrayed her in the worst way possible, Michelle doesn't leave. First, because she has nowhere to go. And then because this man, who has taken everything from her, is also the only one who is offering her security.
When Michelle is forced into unspeakable acts, her voice feels almost distant — it's as if she is living outside of her body. To protect herself, her mind still goes back to that innocence and safety she felt with her grandfather as a girl. Her new reality would be too much to process if she faced it head-on.
My favorite kinds of books are those that make you see something in a whole new light. What this book revealed to me was how far someone will go to feel loved if they have been denied this basic human need. And that is how Peach feels about the other girls in Devon's home — her "sisters" Kat and Baby. Even though at night they are forced to do unimaginable things, there are those moments when they are laughing and watching TV together, doing each other's hair and just being regular girls. It's because of her love for this new family that Michelle is finally able to find the courage to fight back.
Peggy Kern was driven to write this story for the real teen prostitutes in New York City who had stories just like Michelle's. She interviewed them and the police officers who work in the area. She saw the dingy hotel where they worked. When people ask Peggy why these girls would ever open up to her, she says that they were eager to tell their story. And no one ever cares enough to ask.
As Peggy so eloquently says in her author's note for Little Peach, as a community we don't have a place for these girls, who are often runaways with no options. So once they are arrested, they are treated as criminals instead of given the help and education that could reverse the deadly path they are on.
A question we often hear in the industry is why teen books have to be so dark. Why do they have to talk about such serious and dangerous issues? What if they lead teens to those dangerous behavior? What if teens are exposed to content that isn't appropriate for them?
There will stop being dark books for teens when these issues are no longer relevant to teens. When bad things stop happening. And sadly, that is never going to be the case. Books like Little Peach educate people and open their eyes. They take an anonymous issue and make it personal. They teach teens compassion. I have seen books work their magic. It can feel uncomfortable to face these ugly issues as a society, but it's only by facing them that we can start to make a change.
 You can find Little Peach on sale right now!
Alessandra Balzer is the Editor of Little Peach and the Co-Publisher of Balzer + Bray, an imprint of HarperCollins.
Posted by Robin | January 27, 2015 | 3 Comments
Happy 2015 to you! To start the year off right, we'd like to introduce our New Voices picks for Winter 2015. These debut novels entertained us, enriched us, intrigued us, and made us so excited to witness the beginnings of these authors' sure-to-be-stellar writing careers.
Click on the links below to read the first chapter of each title, and make sure to keep an eye on these fantastic authors. We can't wait to see what they do next!
BLACKBIRD FLY, by Erin Entrada Kelly, follows twelve-year-old Apple Yengko as she grapples with being different, with friends and backstabbers, and with following her dreams. Apple has always felt a little different from her classmates. She and her mother moved to America from the Philippines when she was little, and her mother still cooks Filipino foods, makes mistakes with her English, and chastises Apple for becoming "too American." But it becomes unbearable in eighth grade, when the boys—the stupid, stupid boys—in Apple's class put her name on the Dog Log, the list of the most unpopular girls in school. When Apple's friends turn on her and everything about her life starts to seem weird and embarrassing, Apple turns to music. If she can just save enough to buy a guitar and learn to play, maybe she can change herself. It might be the music that saves her . . . or it might be her two new friends, who show how special she really is. Read the first chapter here!
THE KEEPERS: THE BOX AND THE DRAGONFLY, by Ted Sanders, is the first in a four-book middle-grade fantasy series about Horace F. Andrews, a quiet boy who discovers he possesses a power that can change worlds. When a sign leads Horace underground to the House of Answers, a hidden warehouse full of mysterious objects, he unfortunately finds only questions. What is this curious place? Who are the strange, secretive people who entrust him with a rare and immensely powerful gift? And what is he to do with it? From the enormous, sinister man shadowing him to the gradual mastery of his new-found abilities to his encounters with Chloe—a girl who has an astonishing talent of her own—Horace follows a path that puts the pair in the middle of a centuries-old conflict between two warring factions in which every decision they make could have disastrous consequences. Read the first chapter here!
NO PARKING AT THE END TIMES, by Bryan Bliss, is a thoughtful and moving story about losing everything—and about what you will do for the people you love. Abigail's parents never should have made that first donation to that end-of-times preacher. Or the next, or the next. They shouldn't have sold their house. Or packed Abigail and her twin brother, Aaron, into their old van to drive across the country to San Francisco, to be there for the "end of the world." Because now they're living in their van. And Aaron is full of anger, disappearing to who-knows-where every night. Their family is falling apart. All Abigail wants is to hold them together, to get them back to the place where things were right. But is that too big a task for one teenage girl? Read the first chapter here!
RED QUEEN, by Victoria Aveyard, is a sweeping fantasy about seventeen-year-old Mare, a common girl whose latent magical powers draw her into the dangerous world of the elite ruling class. Mare Barrow's world is divided by blood—those with Red blood serve the Silver elite, whose silver blood gifts them with superhuman abilities. Mare is a Red, scraping by as a thief in a poor, rural village until a twist of fate throws her in front of the Silver court. Before the King, princes, and all the nobles, she discovers she has an ability of her own. To cover up this impossibility, the King forces her to play the role of a lost Silver princess and betroths her to one of his own sons. As Mare is drawn further into the Silver world, she risks everything to use her new position to help the Scarlet Guard—a growing Red rebellion—even as her heart tugs her in an impossible direction. One wrong move can lead to her death, but in the dangerous game she plays, the only certainty is betrayal. Read the first chapter here!
LITTLE PEACH, by Peggy Kern, is the gritty and riveting story of a runaway who comes to New York City and is lured into prostitution by a manipulative pimp. When Michelle runs away from her drug-addicted mother, she has just enough money to make it to New York, where she hopes to move in with a friend. But once she arrives at the bustling Port Authority, she is confronted with the terrifying truth: She is alone and out of options. Then she meets Devon, a good-looking, well-dressed guy who emerges from the crowd armed with a kind smile, a place for her to stay, and eyes that seem to understand exactly how she feels. But Devon is not what he seems to be, and soon Michelle finds herself engulfed in the world of child prostitution. It is a world of impossible choices, where the line between love and abuse, captor and savior, is blurred beyond recognition. This hauntingly vivid story illustrates the human spirit's indomitable search for home, and one girl's struggle to survive. Read the first chapter here.
SIMON VS. THE HOMO SAPIENS AGENDA, by Becky Albertalli, is an incredibly funny and poignant twenty-first-century coming-of-age, coming-out story—wrapped in a geek romance. Sixteen-year-old and not-so-openly gay Simon Spier prefers to save his drama for the school musical. But when an email falls into the wrong hands, his secret is at risk of being thrust into the spotlight. Now Simon is actually being blackmailed: If he doesn't play wingman for class clown Martin, his sexual identity will become everyone's business. Worse, the privacy of Blue, the pen name of the boy he's been emailing with, will be jeopardized. With some messy dynamics emerging in his once tight-knit group of friends, and his email correspondence with Blue growing more flirtatious every day, Simon's junior year has suddenly gotten all kinds of complicated. Now, change-averse Simon has to find a way to step out of his comfort zone before he's pushed out—without alienating his friends, compromising himself, or fumbling a shot at happiness with the most confusing, adorable guy he's never met. Read the first chapter here!

Check back here for "Opening the Book" Q&A's with the authors and insightful words from the editors of these fantastic New Voices!
Posted by Molly | October 9, 2014 | No Comments
EVEN IN PARADISE, by Chelsey Philpot, is available next week! Read an excerpt here.
When asked to explain the plot of Even in Paradise, my first young adult novel, I start by saying, "Well it's a realistic, contemporary story inspired by Evelyn Waugh's Brideshead Revisited."
Blank stares.
I foolishly try to shed light on my plot by describing the plot of Brideshead. "It's a novel set in post-World War I England. The protagonist's an artist named Charles Ryder, and his friendship with a fellow Oxford University student leads to Charles's life becoming inextricably intertwined with the majestic and tragic Marchmain family."
The quizzical expressions deepen, prompting me to wax poetic about Waugh's classic.
Fifteen or so minutes later, my audience is usually still confused—if not a little bored and thinking about lunch.
At this point, I sigh and give the one-sentence pitch I should have delivered at the beginning—an explanation that is just as true as my convoluted original. "Even in Paradise is about a teen girl who falls in love with a Kennedy-esque family with a tragic secret."
"Ah!"
I could just as easily say, "It's a novel about different kinds of love." Or "It's about friendship and family." Or "My story looks at class, sexuality, and the destructive nature of secrets."
Though, Even in Paradise began as a modern retelling of Brideshead, it is now very different from Waugh's novel. As I wrote deeper and deeper into my story, I found that I couldn't keep within the confines of another's—even if that story was written by a maestro. By moving Brideshead from the front of my imagination to the back, I made room for other sources of unexpected—but welcomed—inspiration, such as F. Scott Fitzgerald's The Great Gatsby and my own memories.
Even in Paradise turned out to be as much a deliberate homage to books and writers I adore as it is a collage of untraceable ideas. It took time and many drafts to realize that I could not have written my first novel any other way.
10 awesome books that imaginatively interpret, celebrate, and/or satirize classic stories:
Going Bovine by Libba Bray (Don Quixote by Miguel de Cervantes)
Beauty Queens by Libba Bray (Lord of the Flies by William Golding)
March by Geraldine Brooks (Little Women by Louisa May Alcott)
The Hours by Michael Cunningham (Mrs. Dalloway by Virginia Woolf)
The Graveyard Book by Neil Gaiman (The Jungle Book by Rudyard Kipling)
Ash by Malinda Lo (Cinderella by the Brothers Grimm)
Far Far Away by Tom McNeal (Grimm's Fairy Tales)
"His Dark Material" trilogy by Philip Pullman (Paradise Lost by John Milton)
Breadcrumbs by Anne Ursu (The Snow Queen by Hans Christian Andersen)
The Real Boy by Anne Ursu (The Adventures of Pinocchio by Carlo Collodi)
–Chelsey
Chelsey Philpot grew up on a farm in New Hampshire and now works as a book reviews editor at School Library Journal. She's written for the New York Times, Boston Globe, Slate, and numerous other publications. Like her main character, Charlie, Chelsey attended boarding school in New England, and then earned a degree in English from Vassar College and a master's in Journalism from Boston University. Visit her online at www.chelseyphilpot.com and on Twitter @ChelseyPhilpot.
Posted by Molly | January 30, 2014 | No Comments
Working in children's books, there are few days that can compare to the Monday morning of the ALA Midwinter conference, when the ALA Youth Media Awards are announced.  Cheers and gasps follow the announcement of every award named, and hugs and happiness end the conference on the highest of notes. What a great day for authors, illustrators, librarians, teachers, publishing professionals, and book lovers all over the world! We are so honored that awards committees named the following HarperCollins Children's Books titles amongst the best and the brightest this year:
Coretta Scott King Author Award to Rita Williams-Garcia, for P.S. BE ELEVEN
Newbery Honor to Kevin Henkes, for THE YEAR OF BILLY MILLER.
Schneider Family Book Award for Middle Grade to Merrie Haskell, for HANDBOOK FOR DRAGON SLAYERS
Theodor Seuss Geisel Honor to Kevin Henkes for PENNY AND HER MARBLE
Coretta Scott King Author Honor to Walter Dean Myers, for DARIUS & TWIG
Coretta Scott King Illustrator Honor to Kadir Nelson, for NELSON MANDELA
Pura Belpre Illustrator Honor to Rafael Lopez for TITO PUENTE, MAMBO KING (written by Monica Brown)
We're grateful to publish these books, written and illustrated by the most creative, dedicated folks we know, and put them into your hands, the teachers and librarians who give them to children and promote a life-long love of learning. What a fine day to do what we do!
Posted by Robin | January 29, 2014 | 8 Comments
We're thrilled to introduce our New Voices picks for Winter 2014! We absolutely loved these four debut novels, and we think you will, too. Be sure to click on the links below to read the first chapter of each title, and if you're hungry for more, comment and we'll send you a galley (while supplies last).
And now, without further ado . . .
SALVAGE, by Alexandra Duncan, is a sweeping, epic, literary science fiction story with a feminist twist. Teenaged Ava has lived aboard the male-dominated, conservative deep space merchant ship Parastrata her whole life. When a passionate mistake causes Ava's people to turn against her, she faces banishment and death. Taking her fate into her own hands, she flees to the Gyre, a floating continent of garbage and scrap in the Pacific Ocean. Her struggle to survive outside the insular world of her childhood is harrowing, full of surprises, and constantly thrilling. You'll be rooting for Ava all the way! Read the first chapter here!
FAKING NORMAL, by Courtney C. Stevens, is a powerful, moving story about a teen girl struggling to forget a traumatic experience from her recent past. Alexi Littrell hasn't told anyone what happened to her over the summer by her backyard pool. Instead, she hides in her closet, counts the slats in the air vent, and compulsively scratches the back of her neck, trying to make the outside hurt more than the inside does. When Bodee Lennox—"the Kool-Aid Kid"—moves in with the Littrells after a family tragedy, Alexi discovers an unlikely friend in this quiet, awkward boy who has secrets of his own. As their friendship grows, Alexi gives him the strength to deal with his past, and Bodee helps her summon the courage to find her voice and speak up. Read the first chapter here!
CRUEL BEAUTY, by Rosamund Hodge, is a dazzling twist on the story of Beauty and the Beast. Betrothed to the evil ruler of her kingdom, Nyx has always known her fate was to marry him, kill him, and free her people from his tyranny. But on her seventeenth birthday, when she moves into his castle high on the kingdom's mountaintop, nothing is as she expected—particularly her charming and beguiling new husband. Nyx knows she must save her homeland at all costs, yet she can't resist the pull of her sworn enemy—who's gotten in her way by stealing her heart. Read the first chapter here!
SCHOOL OF CHARM, by Lisa Ann Scott, is an enchanting story full of spirit and hope, with a hint of magic. Eleven-year-old Chip has always been her daddy's girl, so when he dies she pins her hopes on winning a beauty pageant to show her family of southern belles that she still belongs. The problem is, she'd rather be covered in mud than makeup! Can a rough-and-tumble girl ever become a beauty queen? SCHOOL OF CHARM tells the tale of one girl's struggle with a universal question: How do you stay true to yourself and find a way to belong at the same time? Read the first chapter here!
Stay tuned for "Opening the Book" Q&A's with the authors and insightful words from the editors of these fantastic New Voices!
Posted by Molly | November 19, 2013 | No Comments
We're packing up and heading up to Boston tomorrow for the Annual Conference of the National Council of Teachers of English. We'll be in HarperCollins Children's Books Booth #1008 every day, handing out materials aligned to the Common Core State Standards (like posters and teaching guides) and galleys galleys galleys!
Come say hello to the amazing authors who will be signing copies of their books:
FRIDAY, NOVEMBER 22nd:
12:00–1:00pm, Jarrett Krosoczka
1:00–2:00pm, Anne Ursu
2:00–3:00pm, Hilary T. Smith
3:00–4:00pm, Rita Williams-Garcia
4:00–5:00pm, Kevin Emerson
*5:00–6:00pm, 50 Years Later C.S. Lewis Legacy Celebration! Come by for hot chocolate, cookies, a free copy of The Lion, the Witch, and the Wardrobe, and a free CCSS-aligned Narnia series Teaching Guide!*
SATURDAY, NOVEMBER 23rd:
10:00–11:00am, Patricia MacLachlan
12:00–1:00pm, Neal Shusterman
1:00–2:00pm, Jerry Spinelli
3:00–4:00pm, Pat Mora
SUNDAY, NOVEMBER 24th:
9:30–10:30am, Katie Cotugno
11:00am–12:00pm, Chris Crutcher
Hope to see you there!
Posted by Preeti | September 26, 2013 | No Comments
Yesterday we heard from Mindy McGinnis about her fantastic debut novel, Not a Drop to Drink. Today, we hear from her editor, Sarah Shumway. Sarah, take it away!
There's nothing like falling into the spell of a new voice, a striking view of reality, and into the life of a character you know you'll never forget.  Falling in love with a book is sometimes a thing that happens gradually over the course of a story, but sometimes the first words on a page signal that the feelings are going to come tumbling out of a book and straight into your heart. The very first words of Not a Drop to Drink have that spark for me: "Lynn was nine the first time she killed to defend the pond…"
The books I've always loved most are those that show me something that I've never even imagined and make it real, make me feel. And I love wild books – ones where characters, especially strong girls, have to work to squeeze a good life from a harsh world. I started young with those books, as in Laura Ingalls in the Little House books and Karana in Island of the Blue Dolphins. I love books that challenge me, along with the characters, to rise above difficulty, limitations, and to become more than we knew we could be.  And Lynn, the heroine of Not a Drop, is such a strong character. Not a doubt there. She's strong in a way that is more than physical or emotional. She's real. She's a product of her circumstances, stubborn and rough, but she discovers her heart.   And her story pushes every one of my "appeal" buttons: that strong and distinctive heroine, a gripping survival story, beautiful, sometimes poetic writing, a vivid setting in a fully-realized world, and plot twists like WOAH.  Oh, and it has some good kissing.
One of the most interesting discussions I've had with Mindy and with my colleagues here at HarperCollins is about how to categorize this book – is it dystopian? Post-apocalyptic? But I'm kind of proud to say that it really defies genre. While Not a Drop has plenty to offer fans of hugely popular dystopian fiction, what I appreciate is that it's more than that. It's different and special because it's not about challenging a world gone wrong, but it's about challenging people to be stronger in their own lives and hearts.  And when the trends have come and gone, I think Mindy's book – Lynn's story – will persist in grabbing readers' hearts and imagination, the same way that the frontier or desert island books many of us loved as children and teenagers are still perennial favorites.
I'm so proud to have helped bring Mindy McGinnis and Not a Drop to Drink to an audience. Almost two years after I first read a draft, this book still makes my heart pound, my spine tingle, and my fingers itch to turn pages, and I hope all readers will feel the same when they get their hands on it.
Sarah Shumway is an editor at HarperCollins Children's Books.
Posted by Preeti | September 25, 2013 | 1 Comment
Imagine a world where water is the hottest commodity. Author Mindy McGinnis has done it in a thrilling, terrifying way in her debut novel, Not a Drop to Drink.
Regret was for people with nothing to defend, people who had no water.
Lynn knows every threat to her pond: drought, a snowless winter, coyotes, and, most importantly, people looking for a drink. She makes sure anyone who comes near the pond leaves thirsty, or doesn't leave at all.
Confident in her own abilities, Lynn has no use for the world beyond the nearby fields and forest. Having a life means dedicating it to survival, and the constant work of gathering wood and water. Having a pond requires the fortitude to protect it, something Mother taught her well during their quiet hours on the rooftop, rifles in hand.
But wisps of smoke on the horizon mean one thing: strangers. The mysterious footprints by the pond, nighttime threats, and gunshots make it all too clear Lynn has exactly what they want, and they won't stop until they get it….
Of course, after reading this fantastic dystopian novel, we jumped at the chance of having Mindy come by and open the book with us!
Which was your favorite book from childhood, and what are you reading right now?
Choosing is so hard! I'll say A Wrinkle in Time by Madeleine L'Engle. Right now I'm reading Between the Devil and the Deep Blue Sea by April Tucholke.
What is your secret talent?
Um… I can flip a stack of quarters off my elbow and catch them in my palm. Also I have very fat thumb pads.
Fill in the blank: _______ always make me laugh.
British men.
My current obsessions are…
SHERLOCK, local history and the roots of criminal profiling.
Any gem of advice for aspiring writers?
Do your homework. Half the battle is learning the industry.
Finish this sentence: I hope a person who reads my book…
Didn't steal it from the library.
How did you come to write this book?
I watched a documentary called Blue Gold, which is about a projected shortage of potable water on our planet due to overpopulation. It was a horrible thought – we all need water to survive, and it's something we can't make. I went to bed very grateful for the small pond in my backyard, and that night I dreamt I was teaching a young girl how to operate a rifle so that she could help me protect the pond. I woke up and thought, "Hey… I wrote a book in my head just now."
I asked myself what this child would grow into, and my main character, Lynn, was the answer. I don't plot at all, I simply write. With Drink I was very fortunate in that the book really wrote itself. It wanted to be told. Lynn's transformation from isolationist to human being had to be slow and believable, but not at the expense of pacing. I knew I needed supporting characters that could make this an interesting read without lots of explosions and fight scenes. Stebbs walked in and saved me there!
—
Thanks, Mindy! You can find Not a Drop to Drink in stores now!
Posted by Molly | August 6, 2013 | 1 Comment
We love everything about books in series… except for waiting for the next one to hit the shelves! Torture! Thankfully, for those who have been waiting (im)patiently, we have your reward– so many great next-in-series Harper books are publishing oh so soon…
ONCE WE WERE, by Kat Zhang
In this riveting sequel to WHAT'S LEFT OF ME, Addie and Eva struggle to share their body as they each fall in love with a different person, but it is their rebellion against the government that may tear them apart forever. There was so much buzz for WHAT'S LEFT OF ME, we know fans have been dying to read more!
THE FALL OF FIVE, by Pittacus Lore
This is the fourth installment in the thrilling, action-packed Lorien Legacies series that launched with the #1 New York Times bestsellers I AM NUMBER FOUR (and a movie starring hunk Alex Pettyfer!). Reunited with Sarah and now joined by Number Eight, Number Four and the remaining Garde are desperate to find Number Five and Sam before it's too late.
DON'T LOOK NOW, by Michelle Gagnon
The second book in the thrilling DON'T TURN AROUND trilogy, which Kirkus called (in a *starred* review, no less!) "Girl with the Dragon Tattoo for teens." DON'T LOOK NOW finds Noa still on the run, with her and Peter's alliance threatened and the stakes higher than ever. And fans, did you read the e-only NO ESCAPE?
We have an embarrassment of riches when it comes to awesome continuing series: heck back later this week for round two!