Posts Tagged: Dan Gutman
Posted by Molly | April 12, 2015 | No Comments
We're soon to touch down in one of our absolute favorite literary states for the Texas Library Association Conference in Austin! If there's anything better than talking books, hanging out with authors and librarians, and enjoying sunshine and Shiners, then we don't want to know about it.
If you'll be in the Lone Star State, too, please swing by our booth, #1341, for galleys, giveaways, and face time with the HarperCollins Children's Books School & Library team. We can't wait to chat and put books in your hands.
But if you're reading this thinking, "sure, you guys are nice, but we're here to meet the AUTHORS, silly!" check out our top-notch signing schedule, here:
WEDNESDAY, APRIL 15TH:
11:00am–12:00pm, Joy Preble, Aisle 7, Finding Paris
11:00am–12:00pm, Melissa Marr, Aisle 8, Made For You
12:00–1:00pm, Kiera Cass, Aisle 8, The Selection Series
1:00–2:00pm, Thanhha Lai, Aisle 8, Listen, Slowly
2:00–3:00pm, Dan Gutman, Aisle 8, Genius Files #5: License to Thrill
4:00–5:00pm, Lauren Oliver, Aisle 8, Vanishing Girls
THURSDAY, APRIL 16TH:
10:00–11:00am, Sherry Thomas, Aisle 3, The Elemental Trilogy
11:30am–12:30pm, Neal & Brendan Shusterman, Aisle 1, Challenger Deep
2:00–3:00pm, Gordon Korman, Aisle 1, Masterminds
2:00–3:00pm, Julie Murphy, Aisle 2, Dumplin' galleys
3:00–4:00pm, Becky Albertalli, Aisle 1, Simon vs. the Homo Sapiens Agenda
You don't want to miss our coupon in the aisle by aisle guide, either! It points you to our booth for a free copy of BONE GAP, by Laura Ruby (*while supplies last), and a chance to enter to win a piece of framed original art by Jef Czekaj, from his upcoming picture book, AUSTIN, LOST IN AMERICA.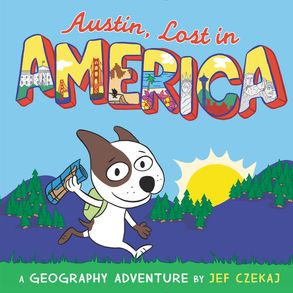 We can't wait to see y'all!
Posted by Robin | August 13, 2013 | 1 Comment
Who's ready for September? No one yet? That's alright. We still have plenty of summer left. Whenever you're ready, though, we want to help you start the school year off right with a little bit of inspiration. There are so many great back-to-school books out there that it's difficult to choose just a few, but here's a small sampling of some of our favorites!
PICTURE BOOKS:
This follow-up to "Weird Al" Yankovic's bestselling debut picture book WHEN I GROW UP will get your students (and you, too) laughing out loud. The irrepressible Billy returns in this hilarious back-to-school tale filled with wordplay and energetic rhyme.
How could you not love Amelia Bedelia and her charmingly mixed-up view of the world? We bet you can guess what happens when Amelia Bedelia is told on her first day of school to "hop on the bus." And it only gets funnier from there! You can visit www.ameliabedeliabooks.com for all kinds of fun downloadable activities and teaching resources.
BEGINNING READERS:
Kids will love this clever spin on a starting-school story by Jane O'Connor (yes, THAT Jane O'Connor, author of the beloved Fancy Nancy books!). First published in 1990 and just released with adorable new illustrations by debut illustrator Bella Sinclair, this is a perfect book for any kid who might be a little nervous about heading off to school for the first time.
Get some ideas for fancy-ing up your class from everyone's favorite Fancy Expert, and make this school year the most glamorous yet!
CHAPTER BOOKS:
Kevin Henkes's newest novel, due out September 17, is a humorous, heartwarming school and family story for young middle-grade readers. Kids will see a lot of themselves in Billy Miller, whose second-grade year includes such universal experiences as homework (dioramas!), school shows (original poetry performed at microphones!), canceled sleepovers, and epic sibling temper tantrums. Visit www.kevinhenkes.com for more information, teaching guides, and more!
Are your students hungry for more of Dan Gutman's wacky My Weird School stories? Book #8 in the My Weirder School series, DR. NICHOLAS IS RIDICULOUS!, is the most recent installment, and you can look for book #9, MS. SUE HAS NO CLUE! this October. Don't forget, you can always head over to the My Weird Classroom Club website for all kinds of great teaching resources, including downloadables, for all of the My Weird School books!
Coming soon: Back-to-school books for older readers . . . stay tuned!
Posted by Laura | October 21, 2011 | No Comments
I know, it seems crazy to talk about the holiday season already.  But this is also the point where we start putting in book orders for the latest titles and replacing old books as well.  So let's jump in and talk about some of the newest books for the holiday season:
MARY ENGELBREIT'S NUTCRACKER by Mary Engelbreit (On-sale: 11.1.11).  Download the memory game
THE HAPPY ELF by Harry Connick Jr., illustrated by Dan Andreasen (On-sale now).  Based on the song by Harry Connick Jr., this comes with a CD.  You can also watch the video.
A CHRISTMAS GOODNIGHT by Nola Buck, illustrated by Sarah Jane Wright (On-sale now).  In its starred review, Publishers Weekly said that this book "serves special status, to be kept off-season with other holiday decorations and then brought out each year at Christmas."
THE LITTLEST EVERGREEN by Henry Cole (On-sale now).  School Library Journal calls this "a fine Christmas choice with an environmental message."
FANCY NANCY: SPLENDIFEROUS CHRISTMAS by Jane O'Connor, illustrated by Robin Preiss Glasser (On-sale now).  Download the event guide.
Need to replace books in your collection?  Here are some possible titles that you may need to re-order:
AMELIA BEDELIA TALKS TURKEY by Peggy Parish, illustrated by Lynn Sweat (An I Can Read book).  Download the teaching guide.
THE BEST CHRISTMAS PAGEANT EVER by Barbara Robinson
A CHRISTMAS CAROL by Charles Dickens, illustrated by Brett Helquist (Picture book edition)
CHRISTMAS COOKIES by Amy Krouse Rosenthal, illustrated by Jane Dyer
DANCE, SING, REMEMBER: A CELEBRATION OF JEWISH HOLIDAYS by Leslie Kimmelman, illustrated by Ora Eitan
FLETCHER AND THE SNOWFLAKE CHRISTMAS by Julia Rawlinson, illustrated by Tiphanie Beeke
HANUKKAH LIGHTS: HOLIDAY POETRY by Lee Bennett Hopkins, illustrated by Melanie Hall
IF YOU TAKE A MOUSE TO THE MOVIES: A SPECIAL CHRISTMAS EDITION by Laura Numeroff, illustrated by Felicia Bond
IT'S CHRISTMAS by Jack Prelutsky, illustrated by Marilyn Hafner (An I Can Read book)
LI'L RABBIT'S KWANZAA by Donna Washington, illustrated by Shane Evans
THE LUMP OF COAL by Lemony Snicket, illustrated by Brett Helquist
MERRY CHRISTMAS, AMELIA BEDELIA by Peggy Parish, illustrated by Lynn Sweat (An I Can Read book)
MERRY CHRISTMAS, SPLAT by Rob Scotton (Download the activity sheet)
MERRY NAVIDAD! by Alma Flor Ada and F. Isabel Campoy, illustrated by Vivi Escriva
MERRY UN-CHRISTMAS by Mike Reiss, illustrated by David Catrow
MY WEIRD SCHOOL #14: MISS HOLLY IS TOO JOLLY! by Dan Gutman, illustrated by Jim Paillot (Download the teaching guide)
THE NUTCRACKER by Susan Jeffers
STANLEY'S CHRISTMAS ADVENTURE by Jeff Brown, illustrated by Macky Pamintuan
THANKSGIVING IS HERE by Diane Goode
THIS IS THE FEAST by Diane Z. Shore, illustrated by Megan Lloyd
Posted by Laura | August 22, 2011 | No Comments
Dan Gutman!  When he first sent this photo, it sent us into gales of laughter:
Want in on the fun and laughs?  Sign up for the My Weird Classroom Club for lesson plans, discussion questions, and more!
Posted by Laura | June 15, 2011 | 1 Comment
We're in ALA Annual Countdown Mode here in the office – it's only one week away!  Dozens of boxes have been filled with galleys and we can't wait to share them with you.  However, while galleys are certainly a huge incentive to come by Booth #1315 to say hi, we also want to offer up our OUTSTANDING list of authors and illustrators signing in our booth during the conference:
FRIDAY, JUNE 24
5:30 pm – 6:30 pm
Veronica Roth (DIVERGENT)
SATURDAY, JUNE 25
9:00 am-9:30am
Thanhha Lai (INSIDE OUT AND BACK AGAIN)
Carolyn Mackler (TANGLED)
9:30 am – 10:30 am
Alex Flinn (CLOAKED)
Jack Gantos (GUYS READ: FUNNY BUSINESS)
10:30 am – 11:00 am
Kelly Milner Halls (SAVING THE BAGHDAD ZOO)
Bobbie Pyron (A DOG'S WAY HOME)
11:00 am – 12:00 pm
Kadir Nelson (HEART AND SOUL posters)
11:30 am – 12:30 pm
Katherine Hannigan (TRUE…(SORT OF))
12:00 pm – 12:30 pm
Patrick Carman (DARK EDEN galleys)
12:30 pm – 1:00 pm
Katherine Paterson (BRIDGE TO TERABITHIA)
1:00 pm – 2:00 pm
Dan Gutman (THE GENIUS FILES: MISSION UNSTOPPABLE)
SUNDAY, JUNE 26
9:00 am – 9:30 am
Bob Shea (I'M A SHARK)
9:30 am – 10:30 am
Christopher Myers (WE ARE AMERICA)
10:30 am – 11:30 am
Rita Williams-Garcia (Newbery Honor and Coretta Scott King Author Winner for ONE CRAZY SUMMER)
11:30 am – 12:30 pm
Kevin Henkes (JUNONIA; LITTLE WHITE RABBIT)
1:00 pm – 1:30 pm
Claudia Gray (FATEFUL)
Maureen Johnson (THE LAST LITTLE BLUE ENVELOPE)
1:30 pm – 2:30 pm
Mo Willems (HOORAY FOR AMANDA & HER ALLIGATOR!)
2:30 pm – 3:00 pm
Lynne Avril (AMELIA BEDELIA'S FIRST FIELD TRIP)
Sarah Weeks (AS SIMPLE AS IT SEEMS)
3:00 pm – 4:00 pm
Lemony Snicket (13 WORDS)
MONDAY, JUNE 27
9:30 am – 10:30 am
Walter Dean Myers (Coretta Scott King Author Honor for LOCKDOWN)
Rita Williams-Garcia (Newbery Honor and Coretta Scott King Author Winner for ONE CRAZY SUMMER)
10:30 am – 11:00 am
April Pulley Sayre (IF YOU'RE HOPPY)
All these superstars…and there's more!  On Monday, June 27 at 11:00 am, we invite you to SHEL-ebrate with us in our booth because Shel Silverstein's new poetry collection will be available on September 20th this year.  Stop by for a cupcake, a sneak peek at the upcoming book EVERY THING ON IT, and a poster!
See you in New Orleans!
Posted by Laura | May 12, 2011 | 1 Comment
We've just returned from the IRA conference in sunny Orlando!  We're still getting our feet back under us and assure you that we'll get back to our regularly scheduled programming soon.  In the meantime, though, here are a couple of highlights from our booth at the conference:
Happy 15th Birthday to the adorable Biscuit!
Attendees received a free My Weird School book when they signed up for Dan Gutman's My Weird Classroom Club.
Thanks to all the teachers, librarians, and media specialists who made the IRA conference such a great time!
More pictures coming soon…
Posted by Laura | May 4, 2011 | No Comments
My name is Dan Gutman, and I love teachers and librarians!
Hey, the most amazing thing in the history of the world just happened.  But I'm not going to tell you what it is.   So nah nah nah boo boo on you.
Okay, okay, I'll tell you.
I had to wait a million hundred years, but HarperCollins just started the My Weird Classroom Club!  It's a club for classrooms, and it's about My Weird School, so it has the perfect name.
My Weird Classroom Club is full of teaching guides, activity sheets, puzzles, games, comics, checklists, cards, Mad Libs, and other awesome stuff you can use in your classroom to get your kids excited about reading.*
"WOW!" (that's "MOM" upside down)  This is the greatest day of my life.  If you ask me, HarperCollins should get the No Bell Prize.  That's a prize they give out to people who don't have bells.
The My Weird Classroom Club is cool.  So don't be a dumbhead.  Go to www.myweirdclassroomclub.com today and  see it live and in person.
If you don't, I'll be so upset that I'll have to go to Antarctica and live with the penguins.
*It's gonna sell a lot of books too!  What a scam!
Posted by Laura | March 24, 2011 | 8 Comments
You know Dan Gutman's books, of course.  He's the author of the wildly popular My Weird School series and its offshoots, as well as The Baseball Card Adventures series as well.  When I was a librarian, we couldn't keep these series on the shelves so I was thrilled when I heard about…
It's Dan's new series and the first book is THE GENIUS FILES: MISSION UNSTOPPABLE, which is available now.  The second book in the series, THE GENIUS FILES: NEVER SAY GENIUS is on-sale in January 2012.  Check out the book trailer:


Booklist says that "thrill seekers and Gutman fans alike will welcome the opening installment of the Genius Files series."  Here are some other links to check out:
Posted by Laura | January 14, 2011 | 3 Comments
I hereby present you with photographic evidence of the great time had in the HarperCollins Children's booth at ALA:
And that doesn't even begin to cover it!  Books on display, hundreds of galleys in cupboards, posters for upcoming books by Kevin Henkes and Mo Willems…just a taste of all the fabulous loot we brought to the conference.
Bummed to have missed ALA Midwinter?  We'll be at Texas Library Association in April and the International Reading Association in May!
Posted by Laura | December 2, 2010 | 2 Comments
Never been to a conference?  Wonder what all the fuss is about?  Do we really stack up galleys for the taking?  See for yourself:
Stacking up the galleys!  CLOAKED by Alex Flinn (2/11)
Stacking up galleys for our new middle-grade series: THE TROUBLE WITH CHICKENS by Doreen Cronin, THE INCORRIGIBLE CHILDREN OF ASHTON PLACE: BOOK II by Maryrose Wood, and THE GENIUS FILES by Dan Gutman
Buttons to promote the series: "I'm Trouble", "I'm Incorrigible", and "I'm a Genius."  Which one are you?
The latest picture books
The latest middle-grade and teen books
Coming Soon!
We gave away THE GRAVEYARD BOOK by Neil Gaiman, which just came out in paperback.  Have you ordered your copies yet?
More galleys stacked up for the taking: UNEARTHLY by Cynthia Hand (1/11)
And these are just the photos of the booth!  Stay tuned for pictures from our signings and from ALAN!